Oral Appliances For Snoring Sleep Apnea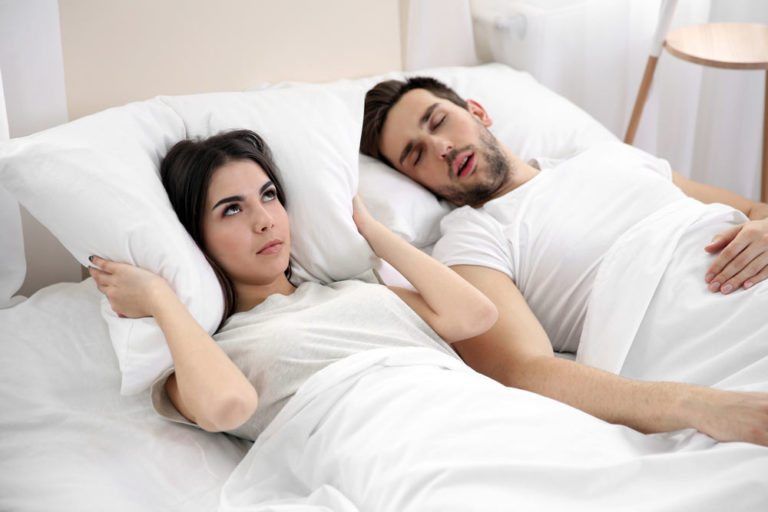 CUSTOM MADE DENTAL APPLIANCES FOR THE TREATMENT OF OBSTRUCTIVE SLEEP APNEA AND/OR SNORING ARE IDEAL FOR:
Mild to Moderate Obstructive Sleep Apnea (OSA) patients
Moderate to Severe OSA patients who cannot (or will not) tolerate a CPAP (Continuous Positive Airway Pressure) Machine
Patients who seek help in being able to sleep soundly and minimize the effects of sleep apnea and /or SNORING
HOW DO OBSTRUCTIVE SLEEP APNEA APPLIANCES WORK?
There are several different types of dental appliances on the market today to treat Obstructive Sleep Apnea (OSA). Generally, most of them prevent the soft tissue in the throat from collapsing into your airway. See what happens below under normal sleep, snoring conditions, and obstructive sleep apnea events that occur throughout the night.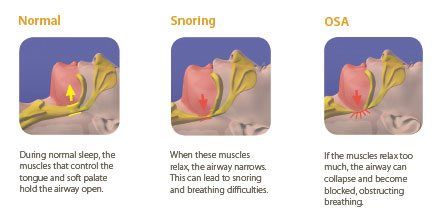 MANDIBULAR ADVANCEMENT DEVICES (MAD'S): The devices Professional Dental of Clarkston fabricates are FDA approved and designed specifically to treat Obstructive Sleep Apnea and snoring. Most all of these appliances function by holding your lower jaw (mandible) slightly forward while you sleep. This keeps your soft tissues in your throat from collapsing and interrupting normal breathing patterns. In other words, it will maintain a clear "open" airway. The Somnodent and brand new Micro2 devices below are some of the best devices on the market that are proven to do this very effectively. Other mandibular advancement devices impinge upon the tongue which will further push the tongue back into the airway. Dr Davidson's specially modified Somnodent or brand new Micro2 appliances do not do this! Some additional benefits of these devices include; being able to close your mouth comfortably to seal your lips at night time. Also you will be able to sleep in whatever body position you choose! If you are a frequent airport traveler, these devices are very easy to travel with (unlike a CPAP machine, which has to be "carried onto" a plane).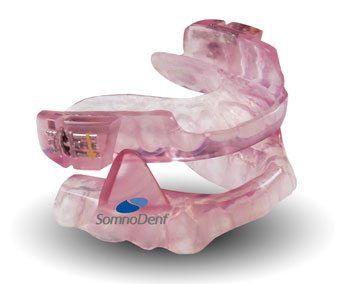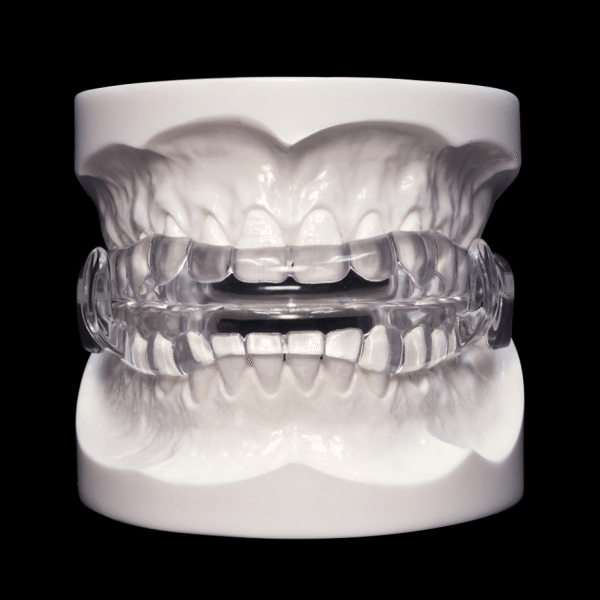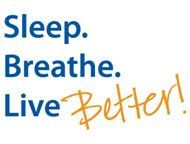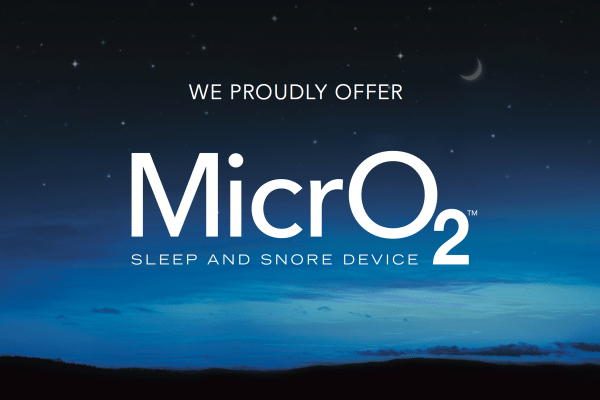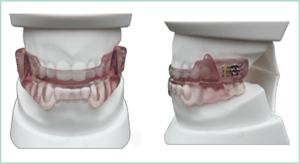 "THE PROFESSIONAL DENTAL OF CLARKSTON DIFFERENCE"
Our Obstructive Sleep Apnea Appliances utilize the advanced scientific principles and technology of Neuromuscular dentistry. This means that we consider how the appliance will affect the TMJ joint and the surrounding muscles of the jaw. We take considerable time to ensure that your appliance is fabricated in the most relaxed position for your jaw joint and facial muscles. This muscular relaxation process takes about an hour and a half and is achieved through the use of TENS therapy (Transcutaneous Electrical Nerural Stimulation). The relaxed and comfortable position for your lower jaw is then extensively verified through the use of computer Electomyography (EMG's) and Jaw Tracking technology to ensure your device will be extremely comfortable each and every night you wear it!
WHY IS THE USE OF "TENS" SO IMPORTANT?
This starting relaxed position of the lower jaw will virtually eliminate any morning jaw or facial soreness that most often occurs with many other "arbitrarily" made dental sleep appliances. These "arbitrary" starting positions also promote further torquing of the lower jaw which leads to torquing of the the spine's C1 and C2 around the brain stem which is where the respiratory center resides. This can lead to a possible Central Sleep Apnea (CSA) condition that takes place in the central nervous system. Overall, if your dental appliance is not comfortable and causes you facial, muscle, and TMJ pain, you will most likely not wear it. This results in your OSA going untreated which can lead to a wide array of other serious medical conditions.
Are you a night time "CLENCHER" or "GRINDER"? Do you wake up with MORNING HEADACHES? If so, this starting relaxed muscular position will also virtually eliminate all of these symptoms. This means, that we are able to effectively treat not only the OSA itself, but also any pathological clenching / grinding habits you may have! How great would that be to not clench or grind you teeth anymore at night time, all while effectively treating your sleep apnea!
FOLLOW UP CARE. HOW EFFECTIVE IS MY DENTAL APPLIANCE WORKING?
At Professional Dental of Clarkston, we want to know exactly how effective your dental oral appliance therapy is working. We do not simply make you an appliance and "assume you are cured of OSA", just because you feel better and have more energy during the day! That is why all of our patients undergoing OSA treatment will be closely monitored after their appliance is in use. We are happy to conduct as many Home Sleep Studies as necessary to ensure that you are now enjoying healthy sleep data and blood oxygen levels. These additional home studies are always at no additional costs to you! In some cases however, referral to a sleep physician and /or a follow up sleep laboratory overnight (PSG) study may be appropriate.
_______________________________________________________________________________________________________________
A FEW OBSTRUCTIVE SLEEP APNEA FACTS YOU SHOULD KNOW!!!!!
A recent study estimated that 33% of male and 6% of female dental patients are at high risk for Obstructive Sleep Apnea. It affects up to 18 million Americans! Officials estimate 10 million Americans have the condition but have not been diagnosed!
Regular Snorers have a 33% increased risk of cardiovascular disease.
Patients with OSA are 4 times more likely to have a heart attack.
40% – 80% of stroke victims also suffer from OSA.
People with Sleep Apnea are 3 times more likely to be involved with a motor vehicle accident.