Home Sleep Study For Snoring Sleep Apnea
PROFESSIONAL DENTAL OF CLARKSTON IS COMMITTED TO NOT ONLY OUR PATIENT'S DENTAL HEALTH, BUT THEIR OVERALL HEALTH, WELL BEING, AND QUALITY OF LIFE.
WE ARE VERY PROUD TO BE ONE OF THE VERY FEW DENTAL OFFICES IN THE METRO AREA TO OFFER A HOME SLEEP STUDY.
WHAT IS A HOME SLEEP STUDY?

A Home Sleep Study is a rather simple, quick, and inexpensive way to screen for a potential life threatening condition called OBSTRUCTIVE SLEEP APNEA. The study is done in the comfort and convenience of your own home and bed. The device we use is FDA approved and is called the "Medibyte" from Braebon Medical Corporation. This device delivers similar data in comparison to a typical overnight sleep lab.
Our Home Sleep Study measures physiological signals such as:
Blood Oxygen Saturation
Heart Rate
Pulse Rate
Respiratory Effort for the Chest and Abdomen
Snoring Volume and Audio
Air Flow Pressure
Body Position Changes
CLICK HERE TO SEE WHAT A SAMPLE HOME SLEEP STUDY REPORT LOOKS LIKE!
WHAT IS OBSTRUCTIVE SLEEP APNEA (OSA)?
Obstructive Sleep Apnea is a serious medical condition in which the upper airway is obstructed during sleep. Many times the actual patient is not even aware that they have a problem! OSA is characterized by long pauses in breathing lasting at least 10 seconds during sleep. These pauses are called "Apneas." Often, these events are witnessed by a spouse or bed-partner. These "apnea events" are dangerous because they are associated with a decrease in blood oxygenation. Snoring is also a key indicator you may have OSA. When we sleep, our muscles that control the tongue position and throat generally tend to relax. Snoring occurs when your airway becomes partially blocked by these relaxed muscles. Obstructive Sleep Apnea is classified into 3 different categories:
Mild Sleep Apnea: This is when a patient has 5-15 "Apnea events" per hour of sleep.
Moderate Sleep Apnea: This is when a patient has 15-30 "Apnea events" per hour of sleep.
Severe Sleep Apnea: This occurs when a patient has greater than 30 "Apnea events" per hour of sleep!
Obstructive Sleep Apnea left untreated, can put you at increased risk things such as: Hypertension, Arrhythmias, Myocardial Infarction (Heart Attack), Cerebral Vascular Accidents, Pulmonary Hypertension, Congestive Heart Failure, Atrial Fibrillation, and Stroke.
ALSO, THERE ARE MANY CLUES INSIDE OF YOUR MOUTH THAT WE LOOK FOR THAT COULD INDICATE OSA!
Other symptoms associated with OSA in which the patient may be aware of are:
Excessive daytime sleepiness
Episodes of waking up and choking or gasping for a breath while sleeping
Driving and work related accidents
Depression
Impaired cognitive function
Fatigue
Irritability
Decreased sex drive
Morning headaches
FOR CHILDHOOD SLEEP APNEA: ADHD, learning and behavioral problems
FOR CHILDHOOD SLEEP APNEA: Bed wetting (Nocturnal Enuresis)
WHAT CAN I DO TO FIND OUT IF I HAVE A PROBLEM?
Generally, there are two potential options. After your initial OSA screening evaluation, Dr Davidson, your family care physician, and/or your sleep physician will recommend an/a:
1. Overnight Sleep Study (PSG). A PSG (or Polysomnogram) is conducted in a sleep laboratory or hospital setting. It is one in which you have to stay overnight and are generally monitored by other professionals while you are sleeping.
2. Home Sleep Study

WHAT DO I HAVE TO DO TO SCHEDULE A HOME SLEEP STUDY?
We simply schedule a brief appointment for you to come into our office. You will then fill out specific sleep questionnaire paperwork. Dr Davidson will then meet with you to determine if you are a candidate for a home sleep study. He will then answer all your questions and address any concerns you may have at this time. Often, you can do your study that same night! You will then simply return the monitor to our office after your two night study is completed. The data and report will then be evaluated by Dr Davidson, a Registered Sleep Technician (RST), and / or a Sleep Physician when appropriate. After that, we will generally appoint you back in our office a few days later to review your results and discuss any action that may be appropriate.
See the photo below of what the Home Sleep Study Device actually looks like!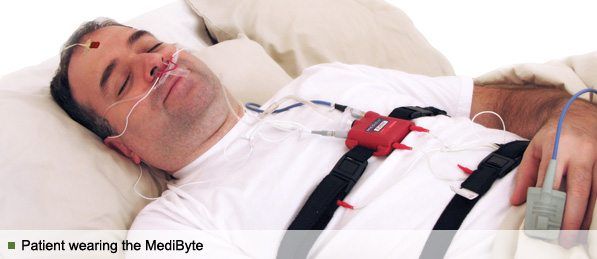 Call our office today at 248-620-6200 to learn more on how we may be able to help you with the initial screening and treatment of Obstructive Sleep Apnea and snoring using the FDA approved "Medibyte" home sleep monitor.